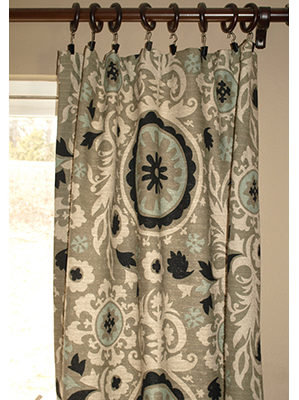 Custom drapery panels are the perfect window treatments for a more sleek, modern look. Combine eye-popping patterns and textures for the finishing touch to any room. With our expertise, Hearth & Home can help you design the perfect drapery panels for any room, making design suggestions and ensuring your drapery panels fit the room's ambiance and exceed your expectations. Whether you want light filtering through sheers or need total light-blocking panels, we've got you covered. Not only can drapery panels add color, style, texture, and beauty to any room, they can be functional for keeping rooms warmer in the winter and cooler in the summer.
We realize there is an endless selection of drapery panel styles – but don't worry! We're here to help! We walk you through the process of choosing:
How you want them to hang (tabs, ties, grommets, flat panel, rod pocket)
How deeply pleated and what style of pleat (pinch, butterfly, fan or goblet; inverted pinch or box pleat)
Width of a hem (4″ is recommended)
What style fabric
Type of liner/backing
Your drapery panels will be made with 2-3 times fullness, larger pleats for extra long styles, and extra care to ensure pattern placement and flow. All of our hems are double turned and weighted for luxurious flow.
How to Get a Quote
To Start Your Quote, enter the information requested on the form below and submit.
We will contact you within 1 business day to get started on your quote and custom design.
Once your design is finalized, you will receive an email with instructions for payment.
Your draperies will then be made; please allow up to 4 weeks since orders are made in the order they are received.
You will receive an email with a tracking number when your order is shipped.
If you're ready to start your order we'll be here every step of the way to make it easy and fun! If you have any questions, please contact us today.
Start Creating Your Custom Order!
Fill in the form below and we will contact you within 24 hours to get more information about your custom drapery request.