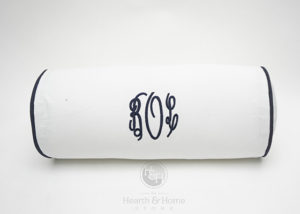 To Start Your Quote, enter the information requested on the form on each product page.
We will contact you within 1 business day to get started on your quote and custom design.
Once your design is finalized, you will receive an email with instructions for payment.
Your bolsters will then be made; please allow up to 4 weeks since orders are made in the order they are received.
You will receive an email with a tracking number when your order is shipped.
Looking for unique accent pillows for your home or a bridal or housewarming gift? Hearth & Home custom bolster pillows are a wonderful way to add flair and style to any room, especially when monogrammed. Square pillows are easy to find and can look awesome when grouped on a bed or sofa, but breaking up the "square" look with a bolster or two in different sizes can make all the difference in the world.
When you choose from our vast fabric choices and beautiful trim, you can create a one-of-a-kind decor piece that nobody else will have. And just like all of our custom products, you can design bolster pillows in durable, weather-proof fabric for your outdoor living areas as well. No more searching the stores for "just the right pillows." Order your custom bolster pillows today!
If you have questions or need to contact us for any reason, please feel free to reach out. We'll get back with you very soon.
*If you need to clean your pillow or pillow cover, we recommend spot cleaning. Use cold water and mild detergent (Woolite). Drying is NOT recommended – Air Dry Only. If you choose to launder your pillow or pillow cover in the machine, we are not responsible for the outcome.
Start Your Custom Quote Now!
As soon as we receive your request we will begin working on a custom quote within 24 hours. If you need a quote immediately, please feel free to call us 636-337-5200. 
Ordered with us before? If so, you will need to log into your account.