HearthSoft® -
The HearthSoft® is a custom designed decorative hearth cushion that safely covers the top and sides of the fireplace hearth. Designed for protecting infants, toddlers, child or children (or people with disabilities or the elderly living at home) with a soft layer of hearth protection, while adding an attractive and comfortable seating area for you, your family and friends.
The patented* HearthSoft® is designed as a single, lightweight unit, which goes directly from the shipping package to the fireplace hearth. However, it's constructed and sewn so that the padded skirt – both front and side panels – folds effortlessly underneath the top cushion for easy storage in a closet or under a bed. Because each HearthSoft® is made to exact specifications of each individual hearth, consumers are assured a product that fits snugly and looks great, unlike hearth bumper systems.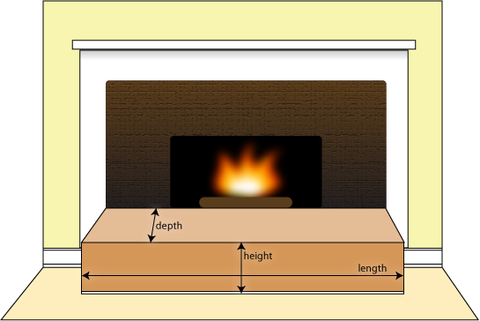 Measuring your fireplace is as easy as 1, 2, 3.
We ask only that you take your time;
be as exact as you can be. 
We'll take those measurements you so carefully take,
And make you a HearthSoft™…
---
1. First, measure the length of the hearth from one end to the other.
– Exact measurements, such as ½", ¼", etc. are required.
– If you have an uneven stone hearth, allow for the distance between the two furthest points.
2. Determine the height by measuring from the floor to the top of the hearth.
– No need to be overly concerned if you have carpeting.
– Simply measure as if you were dropping the tape measure from the deck to the floor.
3. Measure the depth of the hearth from the front of the hearth to the fireplace wall.
– If you have beams extending down the front of the fireplace, measure flush to the beam.
If you have any questions, don't hesitate to Contact Us. We will be happy to answer any questions you have. There is no such thing as a standard size fireplace or hearth; therefore, each HearthSoft™ is custom made to fit your hearth. The placement of your fireplace may also affect its custom design. For instance, you may have a fireplace with built-in bookcases on either side, thus eliminating the need for side panels on your HearthSoft™. Special instructions can be provided in the Special Instructions box provided on check out cart.
–
Disclaimer: Although materials are all fire-retardant, we recommend removing the cushion during a fire to maintain its lasting beauty.