Ready to give your outdoor space a spring refresh? We've got you covered! Our latest blog post is full of ideas and tips to help you get your outdoor area ready for the warmer weather. From new planters and colorful flowers to outdoor furniture and lighting, we've got all the ideas you need to make your outdoor area look and feel like a brand new space. Plus, our blog post includes great advice on how to keep your outdoor space looking its best all season long. So what are you waiting for? Get your outdoor space ready for spring today!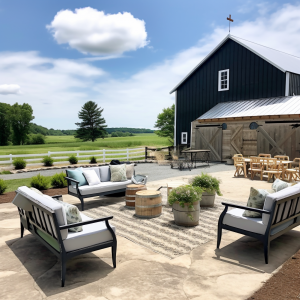 1. Clean up your outdoor space
Cleaning up your outdoor patio space doesn't have to be a chore. Make it fun by turning it into a game. Grab your family and some supplies, like a broom, dustpan, and garbage bags. Give everyone a different job, like sweeping, picking up leaves, or throwing away anything that's no longer needed. To make it even more fun, turn on some music and let everyone dance as they clean. Before you know it, you'll have a sparkling clean patio space to enjoy. Let Nature be your focal point

2. Add some color
Adding color to your outdoor patio can be a fun way to brighten up your space. Start by adding some colorful throw pillows to your patio furniture. If you have a patio umbrella, you can add a bright patterned fabric to it to give it a pop of color. You can also incorporate some colorful plants and flowers, like petunias, marigolds, and geraniums. These will add a splash of color and help to make your patio more inviting. With a few simple touches, your patio will be transformed into a colorful oasis.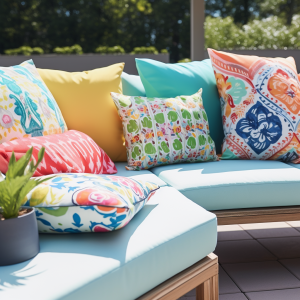 3. Refresh your existing  furniture
Refreshing your patio furniture is a great way to give your outdoor space a fresh new look. To start, give your furniture a good cleaning with a mild detergent and a soft cloth. This will help to remove any dirt and debris that has accumulated over time. Once you've finished cleaning, it's time to add some new accessories. You can choose from a variety of decorative pillows and throws to give your furniture an extra pop of color. If you want to add even more color, you can give your furniture a fresh coat of paint or add a colorful pattern to it. With a few simple touches, your patio furniture will look like new and will give your outdoor space a stylish new look.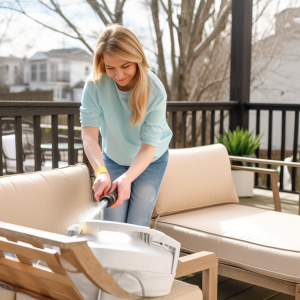 4. Install outdoor lighting
Adding outdoor lighting to your patio is a great way to create a cozy atmosphere. Start by adding some string lights or fairy lights around the perimeter of your patio. This will create a gentle, ambient light that will help to set the mood. You can also add some solar lights along the pathways or around the furniture to add some extra sparkle. Finally, consider adding a few lanterns or torches to give your patio a more romantic feel. With the right lighting, your patio will be transformed into a beautiful and inviting space.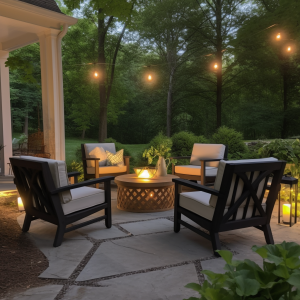 5. Choose low-maintenance plants
Adding some color to your patio doesn't have to be difficult. Low maintenance plants like petunias, marigolds, and geraniums are perfect for adding a pop of color without the hassle. Place some potted plants around your patio furniture for an instant boost of color. Or, you can use hanging baskets to create a cascading effect. With a few simple additions, your patio will be transformed into a colorful outdoor oasis.